Ben Haggard
FACES BERLIN

A Painted Collective Portrait Of Berlin
12. Februar 2011 - 22. Februar 2011

» Ben Haggard - Ausgestellte Arbeiten

Fotos von der Vernissage am 11.2.2011

» Fotos von Lothar Adler und Lothar Hartmann
» Fotos von Jan Sobottka | www.catonbed.de

Empfehlung: Besuchen Sie die Web-Site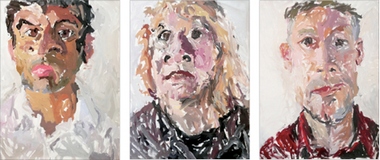 FACES BERLIN
Am 11. Februar 2011 startet das Projekt "FACES BERLIN" des US-amerikanischen Künstlers Ben Haggard. Es werden mehrere hundert Einwohner Berlins porträtiert, um sie zu einem kollektiven Porträt unserer Stadt zusammenzufügen.
Alle Besucher der Ausstellungseröffnung haben die Möglichkeit, Teil dieses Projektes zu werden, wenn sie sich von dem Künstler malen lassen.
Die entstehenden Arbeiten sind unverkäuflich. Alle Porträts werden voraussichtlich 2013 in einer großen Ausstellung unter dem Titel FACES BERLIN gezeigt.

On February 11, 2011 we will launch the project "FACES BERLIN" by the US artist Ben Haggard at the Carpentier Gallery. FACES BERLIN will generate paintings of several hundred citizens of Berlin, assembling them to form a collective portrait of our city. Mr. Haggard is working on comparable projects in other large cities around the world, including San Francisco, New York, and Mexico City.
Portraits completed to date will be displayed from February 11 to February 22. All visitors to the opening will have the opportunity to become part of the project by scheduling a 90 minute portrait session with the artist. There is no charge for this session, however the painting created will not be for sale as it is intended to become part of the larger project. A large scale exhibition of FACES BERLIN is projected for 2013.